Quick Turnaround Documentary
Product: Quick Turnaround TV Documentary
Client: CTV W5
The Opportunity: CTV's flagship investigative documentary series W5 wanted to set themselves apart from their competitors during the early stages of the COVID-19 pandemic.  With all access to the epicentre of the coronavirus outbreak controlled by the Chinese government, there was no independent source of information reaching the outside world.
The Solution: We have been on documentary projects inside China since 2012.  By the end of 2019, we had wrapped production on two films, Balancing Act, on Cirque du Soleil's first resident show in China and Through the Eyes of Norman Bethune.  We were about to return to China in January 2020 when this strange new virus came on the radar.  We never made it to China. But from our vantage point in Canada, we had deep contacts in the country. We set about trying to find people we knew or friends of friends who were under lockdown in Wuhan and who had enough basic knowledge to operate a camera and be our eyes and ears on the ground.  The result was Inside Wuhan, the first look at day-to-day life in the city from the perspective of a Canadian ex-pat who stayed behind after other Canadians had taken government-sponsored flights out of the country.  The documentary was one of the highest-rated episodes of the season for W5 reaching an audience of well over one million and even more on social media.
Product: Microdoc
Client: Shackleton's Real Estate and Auction Co. 
The Opportunity:  To guide seniors through the emotionally-fraught transition known as 'downsizing' without the sales pitch.
The Solution:   We approached the project as if we were making an independent documentary by asking the questions: What is the story? Who are the main characters? What is the emotional connection to the audience? With a sensitive theme such as this, we wanted to treat the subject with respect.  We created a 15 minute 'micro-documentary' entitled 'No Ordinary Shack', using the main character Brent Shackleton's nickname 'Shack' as a play-on-words given his connection to home sales and reflecting his stature as one of Stratford's business and community leaders.  
We hosted an on-line live premiere watched by more than 1,600 people on Facebook Live and another 500+ on YouTube.
https://www.facebook.com/shackletons/videos/700035944020623
We also created the Shackleton YouTube Channel.The Reaction: "Knowing Craig's excellent documentary work, I wanted the 'Craig Thompson' treatment of our story," says Brent Shackleton. "Craig is a master storyteller and a great asset to our community.  He was able to discover the emotional connection in what we offer our clients."
Media Coverage
Product:  Multi-Camera Mobile Broadcasting
Client:  Royal Canadian Legion
The Opportunity:  With COVID-19 public health guidelines preventing public gatherings, the Royal Canadian Legion needed to find a way of proceeding with a virtual Remembrance Day Ceremony from Stratford's iconic Cenotaph, a national historic landmark.
The Solution:   We approached this project as a live broadcast special.  Produced in association with Loreena McKennitt, Honorary Colonel of the Royal Canadian Air Force, the Royal Canadian Legion, Rogers Community Television and the Stratford Perth Museum, we prepackaged a short documentary in which Museum General Manager John Kastner, guided viewers through the history of the Stratford War Memorial and some of the treasures from the two world wars housed in the museum collection.  The broadcast was streamed across Ontario on Rogers Community Television and on YouTube.
Product: Branded Short Film
Client: Mercedes-Benz Kitchener Waterloo
The Opportunity:  Mercedes-Benz Kitchener Waterloo had come under new ownership and was looking to expand its market reach into Stratford by supporting Movies Under the Stars, a series of free outdoor films presented each summer in Stratford Market Square.
The Solution:   We created a short 'branded' film that followed a man and a woman, who meet up in the Mercedes-Benz dealership, each to test drive a different Mercedes-Benz vehicle.  The backstory we leave to the audience's imagination, but we do share their respective test drive journeys through the rolling countryside, both ending up, surprise, surprise, in Stratford, Ontario.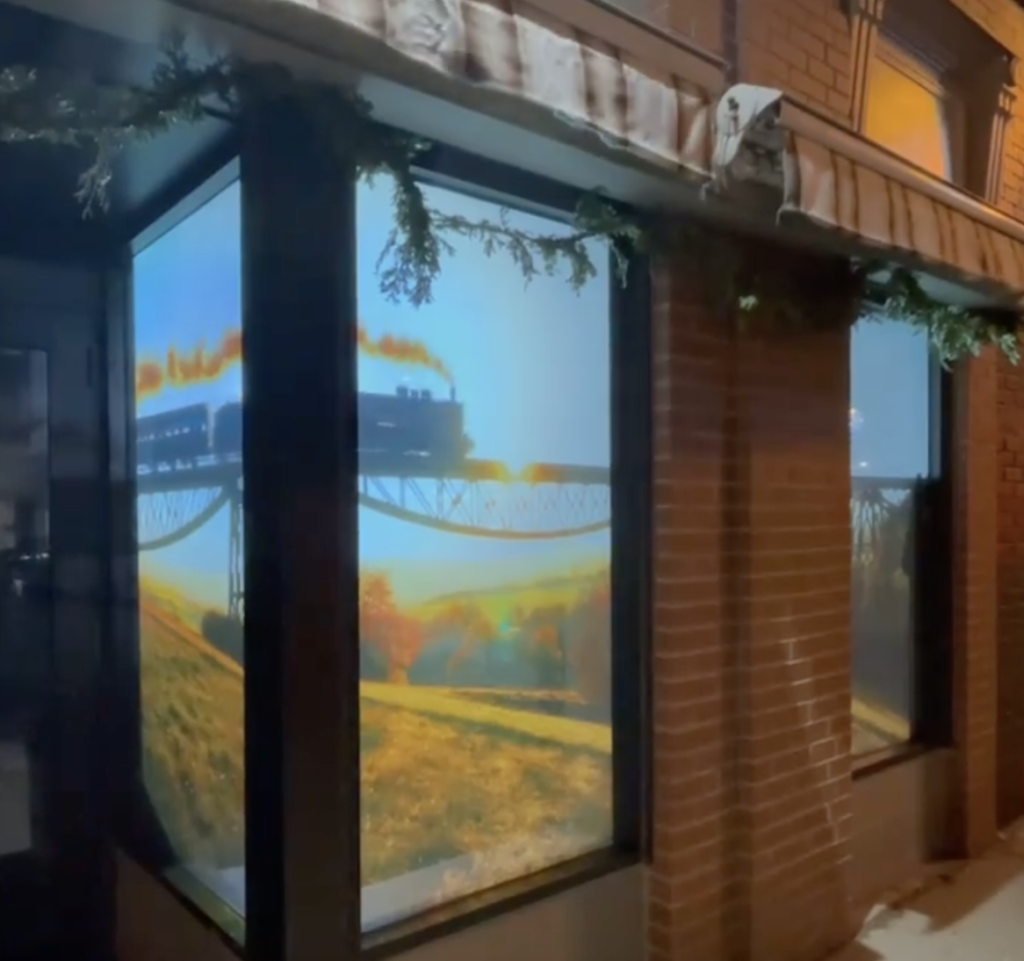 Product: Magic Windows
Client: Lights on Stratford – Stratford Tourism Alliance
The Opportunity:  The Stratford Tourism Alliance created a project to transform Stratford's heritage downtown and the banks of the Avon River into an exceptional light display. The goal of Lights on Stratford was to illuminate the spirit of community nearly 10 months into the pandemic.   The call went out to downtown businesses who were given a budget to create their own unique storefront displays.
The Solution:   We are in the film and television business. We use the power of cinema to illuminate extraordinary stories.  What if we transformed our storefront windows into a giant video projection screen.  Using our professional projectors and projection mapping technology, we designed a series of video vignettes that changed with the season with a Christmas theme, a Valentine's Day theme and a Welcome to Spring theme.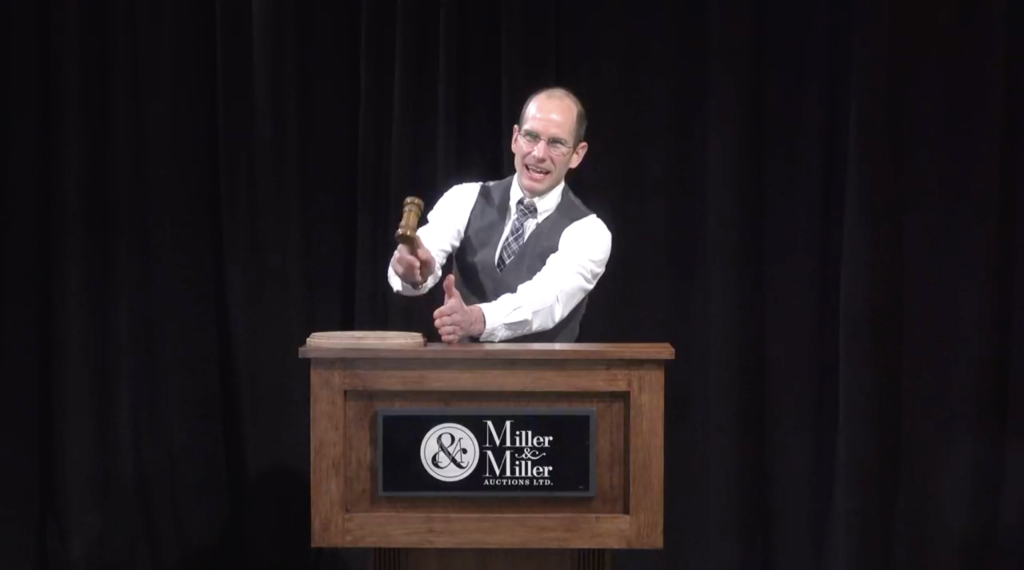 Product: Auction Studio
Client: Miller and Miller Auctions
The Opportunity:  Miller and Miller Auctions is one of Ontario's leading purveyors of antiques and rare collectibles.   In pre-COVID times, their monthly in-person auctions in New Hamburg, Ontario would attract hundreds of buyers from across the province and beyond. The pandemic brought an end to the live in-person experience yet company founders and auctioneers Justin and Ethan still needed to connect with potential buyers.
The Solution:   We adapted our mobile production experience to create Auction Studio, a live broadcast event that transformed their single webcam on-line auction into a global event.  Our expert creative and technical team provided the following services:
Design and build of the Miller and Miller Auction Studio (images or video tour of the studio)

Integration of multi-camera mobile production with backend auction platform

Production and pre-packaging video highlights of lots featured in each auction

Production and delivery of auction recap videos 

Creating the Miller and Miller YouTube Channel and populating the channel with content
Product: Digital Concert Series
Client: Stratford Symphony Orchestra
The Opportunity: With its 2020/2021 season cancelled, the Stratford Symphony Orchestra needed to keep loyal followers engaged even though live in-person performances were no longer possible.  The Symphony had a small budget and needed to create professional digital content that didn't involve streaming from musicians' living rooms and which generated revenue and awareness for the orchestra.
The Solution: We created a series called SSO to GO – six concerts of approximately 20 minutes each filmed over the course of one long day in the Symphony's venue Avondale Church in Stratford, which we then edited and distributed on a custom-made subscription video-on-demand platform which we branded as stagview.ca
Reaction:
"Kudos to Ballinran Entertainment for leading Stratford Symphony's digital transformation! "
"The onset of covid restrictions forced our orchestra to pivot from live performances to the digital world. We couldn't have done that without the creative, professional team at Ballinran Entertainment. Led by Craig Thompson, we were able to brainstorm the best digital solutions that led to the production of a series of polished concert films. We've been told they compare to any major orchestra's digital output. Our partnership with Ballinran will continue well into the future!" – Chris Sharpe, Administrative Director and Musician, Stratford Symphony Orchestra.
Product: Public Health PSAs
Client: STAR Family Health Team
The Opportunity: Prominent family physician Dr. Sean Blaine wanted to cut through the confusion messaging and social media information surrounding the COVID-19 pandemic and reach a local and regional audience with important and topical public health advice.
The Solution: We worked with Dr. Blaine to create a series of short public service videos that reached over 75-thousand viewers between April 2020 and March 2021.  We also were inspired to create a PSA in support of the the Ontario Stay Home Save Lives campaign.